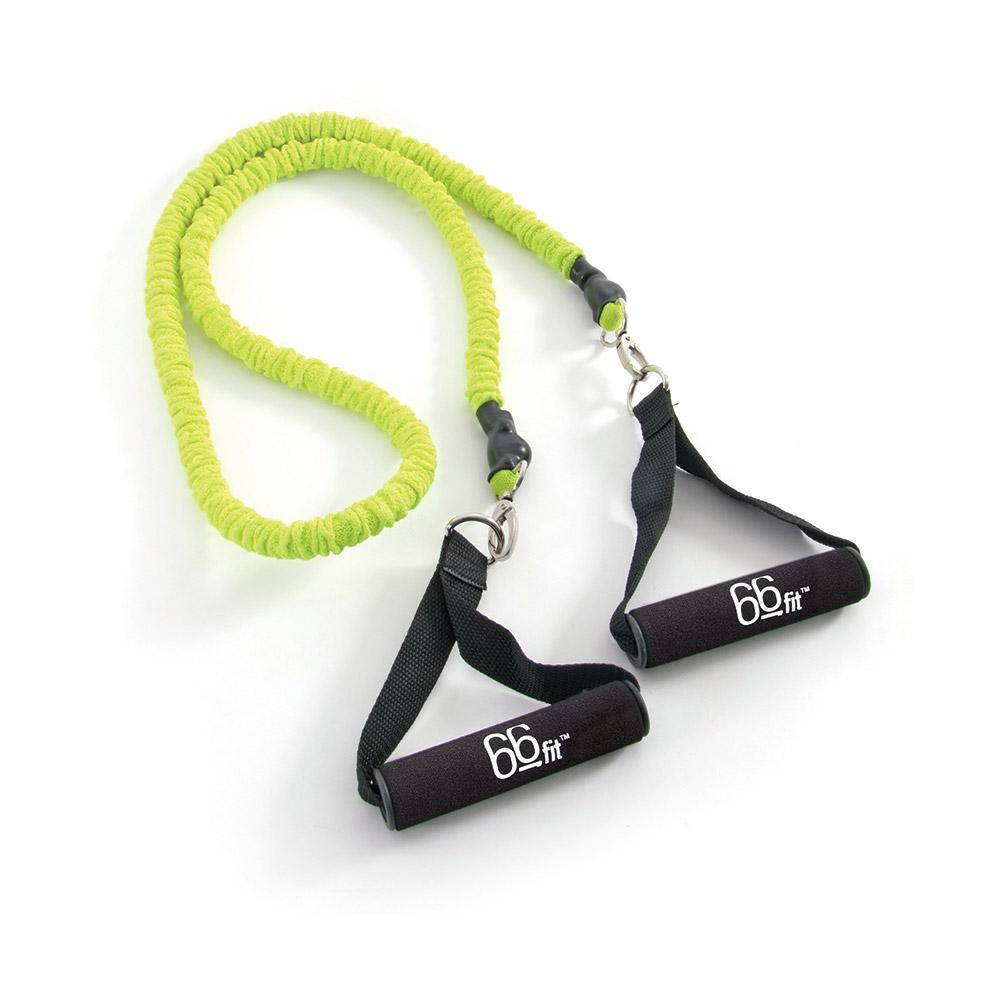 Put safety first with 66fit Safety Resistance Tubes!
66fit Safety Exercise Tubes allow you to carry out some serious exercise whilst maintaining peace of mind.
Our brand new safety workout tubes are constructed from TPR (Thermoplastic Rubber) with a soft nylon outer sleeve covering the entire 1.6m length of tube to protect the user in the unlikely event of the tube breaking or snapping during use.
Use our resistance tubing for a total upper and lower body workout. Biceps and triceps, abs and calves will all benefit from the numerous exercise possibilities that these tubes have to offer.
Why Choose the 66fit Resistance Exercise Safety Tubes?
Manufactured to a high standard the 66fit Resistance Tubes are a versatile, easy-to-use product designed with portability, practicality and easy storage in mind.
Constructed from premium Thermoplastic Rubber (TPR) our tubes are covered with a coloured soft nylon sleeve to protect the user from accident or injury in the unlikely event of the resistance tube breaking or snapping.
The 66fit safety exercise bands are available in five colour-coded strength levels making them suitable for all abilities from beginner right through to the professional. These are:-
Level 1: Yellow
Level 2: Red
Level 3: Green
Level 4: Blue
Level 5: Black
Each tube comes packaged with a set of two detachable foam covered handles with metal clips. Simply attach your chosen level of tube with the easy fit clips and when you need more resistance choose a higher strength tube and repeat.
The colour box features instructional graphics to suggest ways to use the resistance tube.
Features
The 66fit Resistance Tube with Handles is designed for serious strength and incremental resistance training.
Constructed from TPR (Thermoplastic Rubber) with a nylon safety sleeve for optimum consumer safety.
Detachable foam covered handles for comfort and grip.
Available in five different resistance levels suitable from beginner to professional. 160cm (1.6m) length.
Ideal for use as part of Pilates, yoga, cross fit, gym and general workout training.
Specification
Colour: Assorted (according to strength)
Tube length: 160cm (1.6m)
Material: TPR (Thermoplastic Rubber) and Nylon
Presented In: Colour Box
Box Contents: 1 x Resistance tube. 2 x Detachable handles
Made In: Taiwan