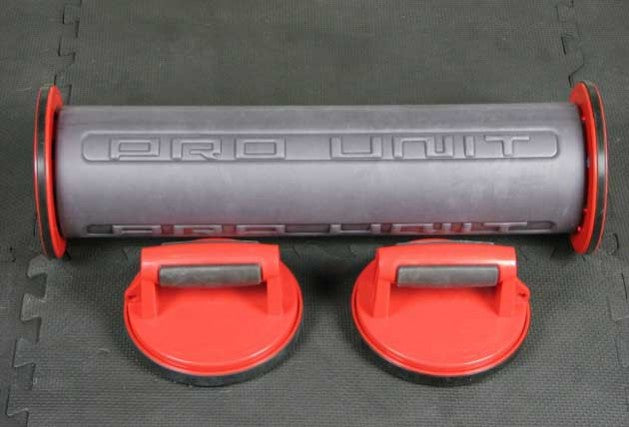 The Pro Unit is a foam roller that can also be used as a weight because it's heavy. As a roller, it uses myofascial release techniques, the method of releasing tight constricted connective tissue that attaches muscle to tendon to articulate tissue. The idea being: loosen the connective tissue, loosen the muscle.
Made from heavy PVC plastic and a foam outer shell, the Pro Unit is sturdy enough to build muscle as well as roll it out. The handles that make it a weight are easily removed for using as an ABS wheel.
The stiffness of the Pro Unit penetrates connective tissue deeply into the muscle belly, helping to release tense, imbalanced muscle fibers. This is different from many foam rollers, which crush under weight and cannot reach as deep down into the muscle.
The Pro Unit comes with 3 DVDs, which provide three sample workouts, from novice to advanced. It would be easy to incorporate The Pro Unit into an interval training workout. It provides adequate weight for strength training and an effective tool to roll sore hamstring and gluteus muscles.