Pressure Biofeedback Units
Pressure biofeedback units are used to check quality and precision during physical performance and exercise. They are often placed at the lower back, helping to identify times when your abdominal muscles aren't active or providing effective protection to your spine. This simple device has been designed by physical therapists to help identify and prevent lower back and neck pain so you can develop a treatment plan. Biofeedback therapy has become a popular method for physiotherapists, and our biofeedback machines will help you.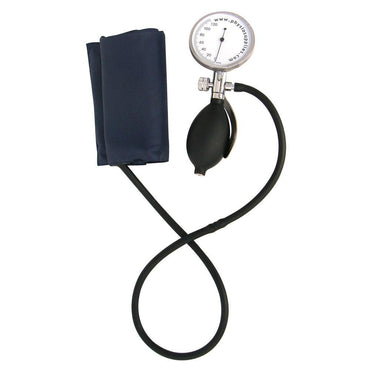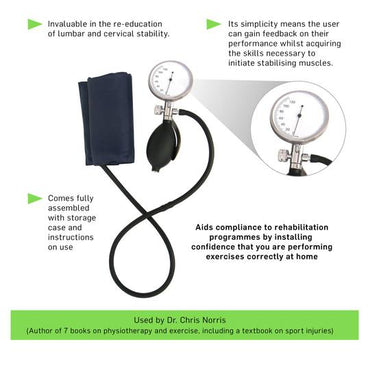 //physiosupplies.ie/cdn/shop/products/B001IC68OG.MAIN__93190_1000x1000.jpg?v=1603383324
//physiosupplies.ie/cdn/shop/products/B001IC68OG.PT01_540x_a06ad4b0-3abc-420f-b236-e56ff53f7ba9_1000x1000.jpg?v=1603383334
The 66fit Pressure Bio Feedback Unit proves invaluable in the re-education of lumbar and cervical stability. Features The unit comes fully assembled complete with a storage case and instructions o...
What is biofeedback therapy?
Biofeedback therapy is a popular solution, providing feedback on the performance of your abdominal muscles and your spine to help improve back and neck pain. When it comes to biofeedback, Ireland has embraced this method, with pressure biofeedback units being used to allow body movement and detect spinal movement during exercise.
Biofeedback machines can be adjusted to suit your needs, and the simple mechanism makes it easy to inflate and loosen the unit. The cuffs are extremely durable and so can handle the pressure of the human body upon it, giving you an accurate reading.
As a 100% Irish owned business, we here at Physiosupplies are passionate about providing a quality service across the country. This is why we ship all orders by 24-hour trackable courier with DPD. You will know exactly where your order is, and we are more than happy to answer any other queries you have. Simply contact our dedicated team to learn more.
FAQs
What is a pressure biofeedback unit?
Pressure biofeedback units are used to measure the performance of the abdominals and spine to ensure that your body is providing the necessary support and protection to the spine, lower back, and neck during movement. By getting an accurate reading you can then adjust your physiotherapy needs.
How do you use a pressure biofeedback unit?
The pressure biofeedback unit is designed to lie underneath the lower back while you are on the floor. You then inflate the pad to a base pressure according to the instructions and go through the exercises outlined by your physiotherapist. They will be able to determine if there is too much pressure on your spine.
Does pressure biofeedback work?
Pressure biofeedback works well to determine if a patient is putting too much stress on their spine when they exercise, rather than using their abdominal muscles to do the work. As they are so simple and straightforward to use, as well as compact, they can become an essential piece of kit for physiotherapists across Ireland.
Why should I use pressure biofeedback units?
It can be challenging to determine how much of a load a person is putting on their lower back or spine when exercising. Pressure biofeedback units allow for objective measurement, effectively monitoring uncontrolled movements and helping you create a plan to change the pressure.
How easy is it to use a pressure biofeedback unit?
Pressure biofeedback units are extremely easy to use. Your physiotherapist will simply position the cuff or the unit underneath your lower back as you lie on the floor. They will then inflate the cuff to a specific pressure before instructing you through exercises. After taking a reading, they'll be able to determine the type of support you need.