Thigh Supports
Hamstring and thigh supports can help speed up your recovery after injury. It is important to reduce movement, stabilise the joint, and compress the injured area. This will not only help your body to recover but also prevent further injuries. Thigh injuries are common among athletes, with footballers, rugby players, and runners suffering from them. With the right treatment, you can be back at 100% fitness in no time. Shop the full range of thigh supports in Ireland here at Physiosupplies.
This product has been designed for cases where protection to the femur is required. It also supports the quadriceps and adductor muscle groups in lesions by applying heat and compression. It is mad...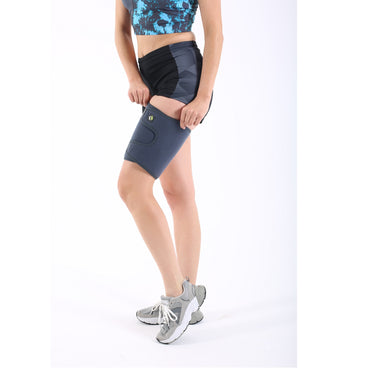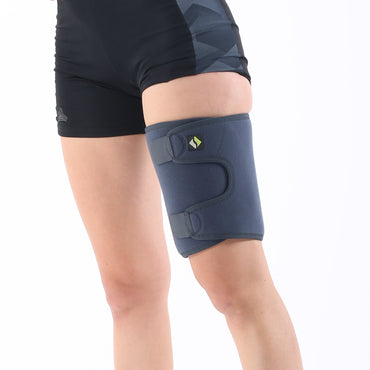 //physiosupplies.ie/cdn/shop/products/ersa219_1000x1000.jpg?v=1681748761
//physiosupplies.ie/cdn/shop/products/ERSA-219_16_1000x1000.jpg?v=1681748925
This innovative thigh support is crafted from high-quality, breathable neoprene material that offers unparalleled comfort and support to your thigh muscles. Designed to accommodate users ...
The best thigh support wraps and sleeves
The type of thigh support you need will depend on the injury and your own preferences. For many, a thigh sleeve is perfect, as they can easily slip it onto their leg and get the support they want. They provide the ideal level of compression following a tear or strain, stabilising the joint to reduce the likelihood of further injuries.
For others, they want something more targeted. Hamstring supports can give you just that. Covering the thigh and hamstring, these braces are often adjustable and help to target the quadriceps and hamstring areas. They fit snugly to your body, providing effective support at all times.
Got some questions about the right thigh brace for you? We are here to help. With over 12 years of experience delivering directly to consumers and clinics around Ireland, we are ready to answer your questions. Contact us now.
FAQs
What does a thigh brace do?
A thigh support brace fits over your thigh and hamstring area to provide compression and support. Compression can help to reduce swelling and ease pain in the area. Using a supportive brace ensures that movement in the area is restricted, which is essential for preventing further injuries.
Are thigh sleeves really good?
Thigh sleeves are some of the most versatile tools to use. They are easy to use, slipping straight onto your leg, and apply the right level of compression for the majority of people. Not only are they easy to wash, but they are also designed to wear underneath your clothing. Whether you have put on some shorts for the summer or you are going to work, you can easily wear your thigh sleeve underneath.
How tight should a thigh compression sleeve be?
It can be difficult to judge just how tight a compression sleeve should be. Making the sleeve too tight can be counterproductive. The aim is for the sleeve to fit snugly around the injured area of the body. If you are at all uncertain about the level of compression, your physiotherapist can guide you and answer your questions.
Is compression good for a hamstring strain?
Compression is a vital part of recovery for any injury, including hamstring strains. Many physiotherapists and other healthcare professionals will recommend following 'R.I.C.E' to help speed up recovery. You should rest, ice, compress, and elevate the injury. Compression sleeves are the perfect way to compress the injury with ease.
How can I speed up my recovery from a hamstring injury?
Your physiotherapist can make recommendations on exercises to do to speed up your recovery. They will likely also recommend using a hamstring sleeve or brace. These tools are perfect for providing your body with the vital support it needs. By reducing the movements of the affected muscles, your body will be able to heal.