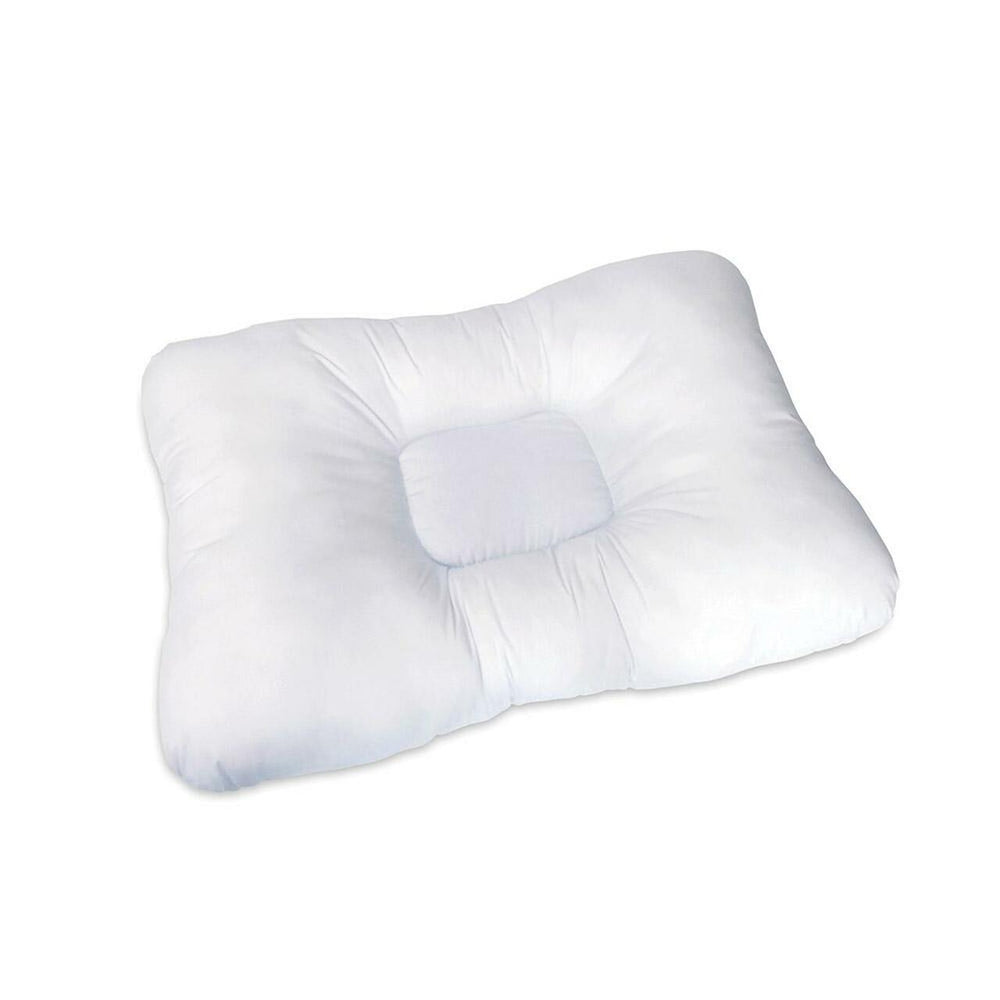 Get a great night's sleep with the 66fit Orthopaedic Pillow!
The 66fit cervical pillow has been designed to provide orthopaedic and cervical support whilst sleeping. The most popular pillow in the 66fit comfort range this orthopaedic pillow will improve the comfort and quality of your sleep.
The unique design features a central hollow or 'depression' to cradle the head and neck, supporting the spine when sleeping on your back. Raised lumbar rolls to the side of the pillow work to maintain the correct and natural alignment of the neck and spine while sleeping on your side.
Regular use of the orthopaedic cervical pillow has been shown to provide pain relief for the neck, shoulders and upper spine areas and can also help alleviate pain caused by tension headaches.
Why Choose the 66fit Cervical Support Pillow?
Manufactured to a high standard the 66fit cervical pillow is a versatile, easy-to-use product designed with comfort, portability and practicality in mind.
Orthopaedically designed our support pillow is made from soft hollow polyester fibres for unrivalled comfort and relaxation.
The 66fit Physio Neck Pillow is widely recommended in the treatment of pain and discomfort caused by neck or joint sprains and strains, whiplash injuries, muscle spasms and cramping. It is also proven effective in the relief of tension headaches.
The pillow is machine washable and will fit most standard household pillowcases.
Please Note: We recommend placing the pillow inside a standard pillowcase for use.
**For health and hygiene reasons, we regret that this item is non-refundable if it has been opened or used**
The colour box features instructional graphics to show how to use the orthopaedic pillow, with additional in-depth videos available online.
Features
The 66fit Orthopaedic Cervical Pillow is designed to be used in bed to provide comfort and orthopaedic support whilst sleeping.
Offers support and pain relief for head, shoulders, neck and upper back.
Orthopaedic design features a central hollowed area to cradle the head and side lumbar rolls to align and support neck and spine.
Made from high quality hollow polyester fibre for unrivalled comfort.
Suitable for use in most pillow cases. Machine washable.
Specification
Colour: White 
Dimensions: 40cm x 50cm x 13cm 
Materials: Polyester Fibre
Presented In: Colour Box 
Packed Weight: 1.8kg