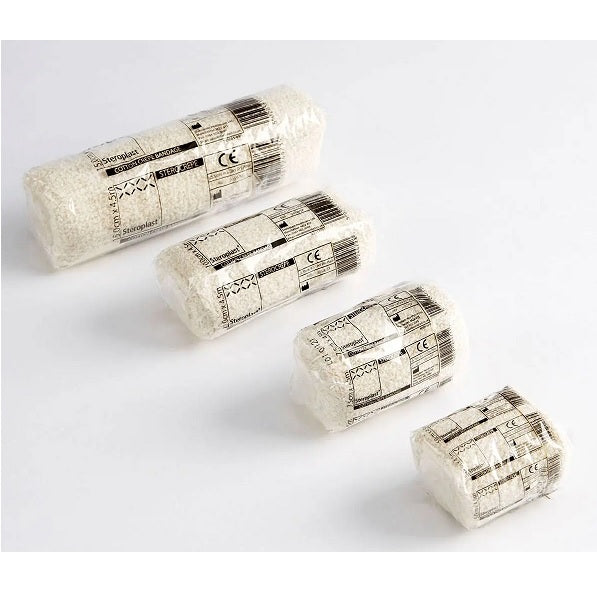 NHS-approved, versatile crepe bandage made from breathable stretchy cotton for comfortable, moderate compression. A textured surface holds bandages in place. Choose from four different widths for a range of uses.
Colour: White
Latex Free.
Sterocrepe: Used by Healthcare Professionals
Crepe bandage definition: a stretchy, cotton woven bandage that is used as a compression wrap for sports injuries and sprains or to cover a wound dressing.

NHS-approved white crepe bandage, Sterocrepe, is a high quality, premium crepe bandage, ideal for giving light support to sprains and strains in joints and muscles. It also works as a moderate compression bandage to alleviate knee swelling, ankle swelling and similar musculoskeletal injuries thanks to its ability to reduce inflammation.

The textured surface of Sterocrepe provides excellent traction, making it ideal for holding dressings in place with light support. Professionals in healthcare, beauty, veterinary, and other industries love and rely on our crepe bandage. 

Features and Benefits of Sterocrepe Bandage
Washable and reusable to save you money.
Crepe bandage rolls are individually wrapped for hygiene.
Strong, stretchy, and soft to provide comfort and support to delicate injuries and trauma sites.
High-quality woven stretch material makes wrapping easy, even on joints and awkward areas.
Provides padding and protection for a wide range of cuts, grazes, and soft tissue injuries.
The textured surface helps hold layers of bandage in place and assists with dressing retention.
Available in 4 widths: 5cm, 7.5cm, 10cm, and 15cm depending on where the bandage needs to be used.
How to Use Crepe Bandage
If you are wrapping a musculoskeletal injury like a sprain, ice the area first. This helps to stop and reduce swelling, minimises pain, and prepares the area to be gently compressed with the bandage.

Choosing the right width of crepe bandage is important too, to ensure the area is sufficiently covered and supported. Crepe bandage for ankle, foot, wrist, thumb, arm, knee, and other injuries must be the right size to give optimum coverage and support. Using a narrow bandage on a large area, for example, would necessitate too many layers which could lead to a wrap that is too tight or stiff, a large crepe bandage would be better suited.

If covering a dressing, a good general rule of thumb is to choose a bandage that completely covers the dressing with about 2.5cm extra on either side. If you are working with a very large dressing, choose the widest bandage available and carefully wrap it over the dressing in over-lapping layers.

Crepe Bandage Size Guide
Bandage Size and Example Use

Crepe bandage 5cm:
Fingers, toes, hands, feet, childrens' limbs, small pets like cats and dogs.

Crepe bandage 7.5cm:
Hands, feet, wrists, ankles, head, neck, childrens' limbs, pets.

Crepe bandage 10cm:
Arms, wrists, ankles, shoulders, large animals.

Crepe bandage 15cm:
Arms, legs, shoulders, torso, hips.

Is crepe bandage washable?
Yes, our crepe bandage is reusable, meaning you can use it again and again and save money. This makes crepe bandage a favourite for athletes and fighters who use the wrap in day-to-day activities.

Crepe bandage washing instructions are simple. Just wash the bandages by hand in warm water with soap or laundry detergent and rinse well. Hang the bandages to air dry or dry them on a radiator. Be sure they are fully dry before using them as damp bandages present good conditions for the growth of bacteria and cause rubbing or chafing against the skin.

Crepe Bandage Application
Forearm, Thigh, and Calf
Start below the injury
Hold the end of the bandage flat against the skin, or ask someone to help hold it in place.
Using a spiral pattern, wind the bandage around the limb, overlapping ⅔ of the bandage each time so the area is evenly covered.
When the area is covered, snip off the bandage from the roll with a little to spare, and secure it in place with microporous tape.
Knee, Ankle, Wrist, and Elbow
Wrap straight around the limb once in a loop above or below the injury to secure the bandage in place.
Wrap the bandage in a figure-of-eight pattern across the joint so that each time the bandage loops around it goes above or below the joint.
Finish with one or two loops around the limb and secure with microporous tape.
Who is crepe bandage for?
Does crepe bandage reduce swelling? Yes, cover dressings and keep them safe? Yes. Crepe bandage is one of the most versatile types of bandage.

Cotton Crepe Bandage Uses
Sports: sports therapists and physios often use crepe bandage for wrist pain, foot fractures, knee pain, ligament tears and more soft tissue or musculoskeletal injuries to help athletes heal more quickly and reduce the chance of long-term injury. Crepe bandage can also be used to provide light support to joints during activities like running and boxing to guard against damage and prevent overuse injuries.
First aid: in addition to the applications for sports injuries, a crepe bandage can be used to wrap injured limbs in a wide range of first aid situations. Crepe bandage is also used to cover and protect dressings and hold them in place and is a regular addition to first aid kits.
Veterinary: highly functional in a range of settings, and with four different widths to choose from, crepe bandage is regularly used by vets for all the same purposes as it is on humans. Vets use narrow crepe bandage for dogs, cats, horses, and other animals to provide support to healing injuries and keep dressings in place when animals move around.
Beauty: the absorbancy of crepe bandage makes it an excellent material to use in a range of beauty treatments that draw out toxins and impurities from the skin, as well as those which hold treatments against the skin for absorption. Beauticians and spa therapists use crepe bandages in mud and clay wraps, hyaluronic acid and essential oil wraps, lymphatic drainage, pressure therapy, and cryotherapy. They are also used in aftercare following aesthetic procedures.