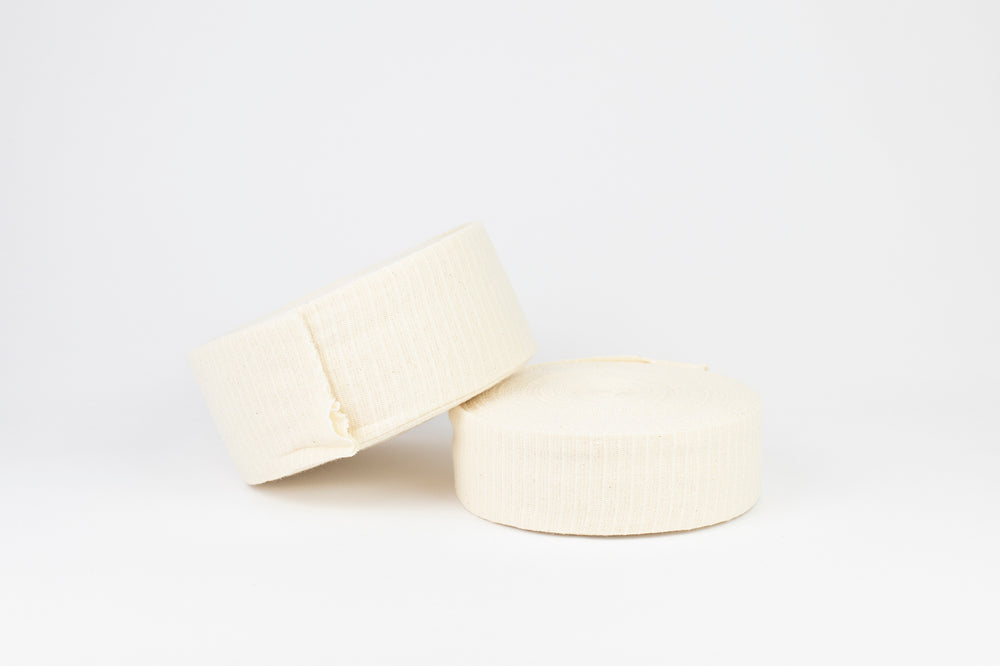 This is a compressive tubular bandage.
 It is a knitted, seamless, elastic cover in roll form, designed to be used as a base layer for immobilisation materials, plaster and synthetics as a support for dressings. It can be applied as a protective or supportive dressing after surgery or rigid immobilisation.  
It is intended to apply light compression to any part of the body. 
Our Elasticated Tubular Bandages are a versatile and reliable first aid solution for a range of injuries and conditions. Made from a stretchy and breathable material, they can be easily slipped over limbs or other body parts to provide support and compression. They stay in place, even during physical activity. They are also easy to remove and leave no residue. Whether you're an athlete looking to support an injury or just want to keep your first aid kit stocked, our Elasticated Tubular Bandages are a must-have. They are also latex-free, making them suitable for those with allergies.
Colour: Natural cotton.
Features
Cotton / Polyamide / Elastomer
Weight 240 gr/ m2
Great adaptability.
Latex free.
Easy to use and comfortable
Class I medical device according to Annex VIII of the Medical Devices Regulation 2017/745

CE and MD marking
Manufactured under the EN UNE ISO 13485:2016 quality standard.
Sizing:
A: (4.5cm x 10m) Recommended for Fingers
B: (6.3cm x 10m) Recommended for Wrist and Ankles
C: (6.8cm x 10m) Recommended for Medium Extremities
D: (7.5cm x 10m) Recommended for Arms and Thin Limbs / Legs
E: (8.8cm x 10m) Recommended for Legs and Knees
F: (10cm x 10m) Recommended for thick Lower legs and thighs
G: (12cm x 10m) Recommended for thick Thighs
J: (17cm x 10m) Recommended for thin Trunk / Abdomen area
K: (21.5cm x 10m) Recommended for Normal Trunk / Chest area
L: (32cm x 10m) Recommended for Thicker Trunk / Chest area