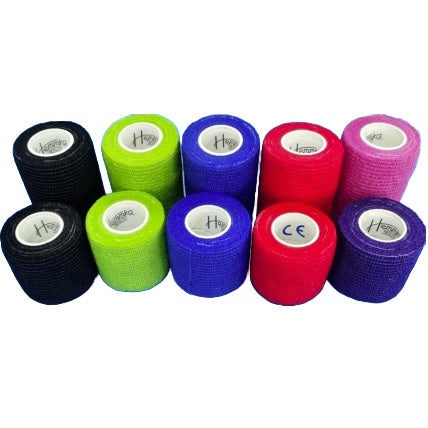 Cohesive Bandage / tape falls into the category of cohesive compression bandages. Thanks to its cohesiveness, this cohesive bandage allows it to adhere to itself and not to the skin. Moreover, thanks to the bandage's longitudinal elasticity, it adapts perfectly to any part of the body, including joints and conical parts. Finally, the elastomer it contains gives it a compressive character.
For all these reasons, it is an ideal bandage for any type of compressive bandage. Some of its most common uses are for the prevention of muscle ruptures, sprains and joint sprains, being a very versatile bandage also used in support and fixation bandages. The most common sector of this bandage is sports and physiotherapy, allowing bandages to be made quickly and in any situation.
Colours: Black, Dark Blue, Light Green, Red, Purple, Pink
Size: 5cm or 7.5cm x 4.5m
Sold per roll or at a discount per box of 12 rolls.
Features
Non weave/ Elastomer
Natural latex rubber
Cohesive product.
Adheres to itself, not to skin or clothes.
Simple and quick application.
Great adaptability.
Medium compression.
High elasticity.
Individually wrapped to maintain dryness and effective taping even after being left

 

in the bottom of a damp

 

pitch

 

bag for months
Class I medical device according to Annex VIII of the Medical Devices Regulation 2017/745.
CE marking