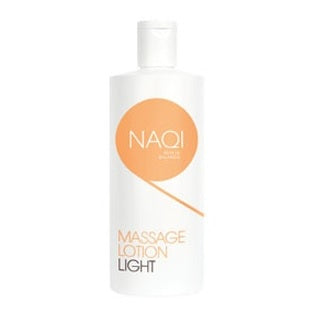 Objectives: An ideal lotion for all your therapeutic treatments.
Application: Clinic, private practice & sport.
Solution: In addition to sports massage, physical therapists & massage therapists practice a wide
range of different massage, requiring a non-greasy massage lotion with immediate, excellent lubricating and dispersion properties.
NAQI® supplies a very specific O/W emulsion for this purpose. The NAQI® Massage Lotion
Ultra perfectly balances a long-lasting gliding effect, with a non greasy light feel.
Enriched with a soft hypo-allergenic perfume. The perfect solution.
Does not contain parabens nor formaldehyde releasers.
Dermatologically tested.
Packaging:   500 ml
Properties 
Dermatologically tested
Without parabens or formaldehyde releasers
Free from nuts
Suitable for dry and sensitive skin
Intensively hydrating
Without any ingredients of animal origin
Easy to wash out
Use 
Suitable for all types of massage, leaves the skin dry after treatment