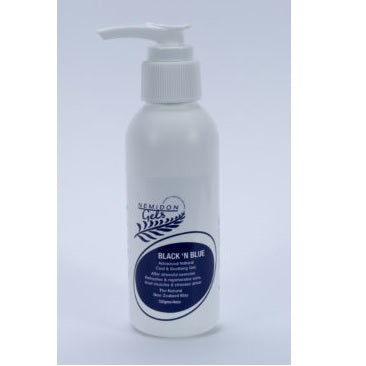 Topical, Fast working, long lasting marine gel to cool and assist painful & stressed areas. Ideal with RICE care. Can be used on muscles for recovery after any strenuous exercise session.
Main Benefit:
Can be applied to skin right before taping and strapping to aid in recovery.
Very useful for therapists working pitch side at matches.
Nemidon Black 'n' Blue Is a unique patented marine gel blended with nature's finest botanical and essential oils. This anti-inflammatory gel rapidly assists in the treatment of acute injuries, bruising and swelling from impact injuries and arthritic joints, it also provides temporary relief of muscular inflammation, aches and pains. Penetrates deeply to provide a cool and soothing sensation. Use immediately after strenuous exercise to help relieve stiffness in muscles and joints. Ideal to use with RICE treatment. This handy pump top bottle can be carried in a sports bag or a hand bag for instant access for pain relief at any time.

Can be used with ultrasound treatment.
Can also be used on animals and is popular for use in the equine industry.

"Currently 85% of independent practitioners working on the PGA Tour use Nemidon gels"

Features and Advantages:
• Non-greasy
• Adhesive strapping can be applied immediately after use
• Does not stain clothing
• Revitalizes the senses of the skin after use
• Contains no petrochemicals or alcohol
• Not tested on animals

Contains:
Seaweed Colloids, St Johns Wort Oil, Arnica Oil, Witch Hazel, Menthol, Clove Oil, Junlon, Bronopol, Triethanolamine, Sorbitane Mon Laurate, Deionized Water.

Care to be taken if pregnant, due to the presence of St Johns Wort