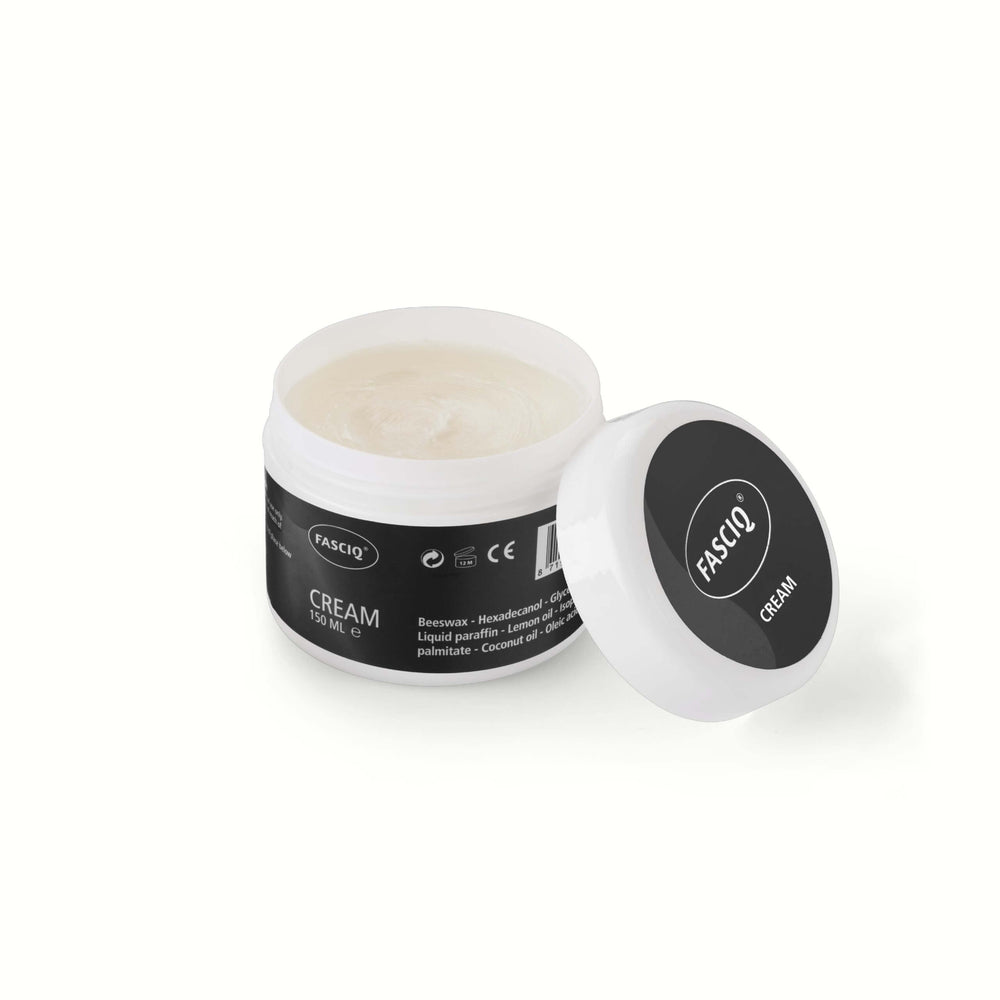 FASCIQ Professional Massage Cream 150ml is a balanced blend of natural ingredients (as beeswax and coconut oil) that will take your manual treatments to the next level. Our light cream reduces friction and enhances the glide or your hands or tools.
ALL NATURAL
Free of perfume, colourants and preservatives
The FASCIQ® Professional Massage Cream 150 ml allows you to glide smoothly over the skin while maintaining control over your movements and a targeted pressure.

Specially designed to work with our Silicone Cupping Sets, but versatile overall. Our massage cream is used by professionals therapists to various massage techniques and styles. Whether you're performing gentle relaxation massages, deep tissue or sports massages, our cream is a reliable choice.

Its combination of ingredients act as emollient to reduce soreness as take care of the skin of patient and therapist. Feel free to use it repeatedly: it doesn't contain harmful chemicals, is hypoallergenic, fragrance and paraben free. Suitable for various skin types (including sensitive skin).

Say goodbye to greasy finishes. Our cream has a rich but lighter texture that prepare the skin without leaving behind a greasy residue. It strikes the perfect balance, ensuring your hands glide smoothly over the skin without excessive slipperiness, so you can still have full control over your tools.

In most cases, no additional cleaning is required. However, if needed, simply rinse with warm water and mild soap for a quick and easy cleanup.

Moreover, you can enjoy extended massage sessions without the need for constant reapplication. Our cream has a slow-absorption formula, allowing therapists to perform longer treatments without interruption. This not only saves you time but also means you can use a smaller amount of product for each session, making it convenient and economical.

Unleash the potential of your hands our FASCIQ Professional Massage Cream!

If you are looking to enhance the grip while working, try our Professional Massage Wax.

INGREDIENTS:
Beeswax: A natural wax produced by bees, it has anti-inflammatory, antibacterial, and antifungal properties, promoting a clean and healthy massage environment.
Lemon oil: Extracted from lemon peels, it has a refreshing scent that energizes and uplifts. It also calms, detoxifies, and acts as a natural antiseptic.
Hexadecanol: Acts as an emulsifier, ensuring a smooth and consistent texture.
Isopropyl palmitate: Works as an emollient and thickener, providing a luxurious feel and moisturizing the skin.
Glycerol stearate: Derived from natural sources like palms, olives, or coconuts, it moisturizes and helps maintain soft and supple skin.
Liquid paraffin: A mineral oil that lubricates during massages and helps relieve swollen joints and muscles.
Oleic acid: Helps calm, balance, and repair the skin, while protecting antioxidants from degradation.