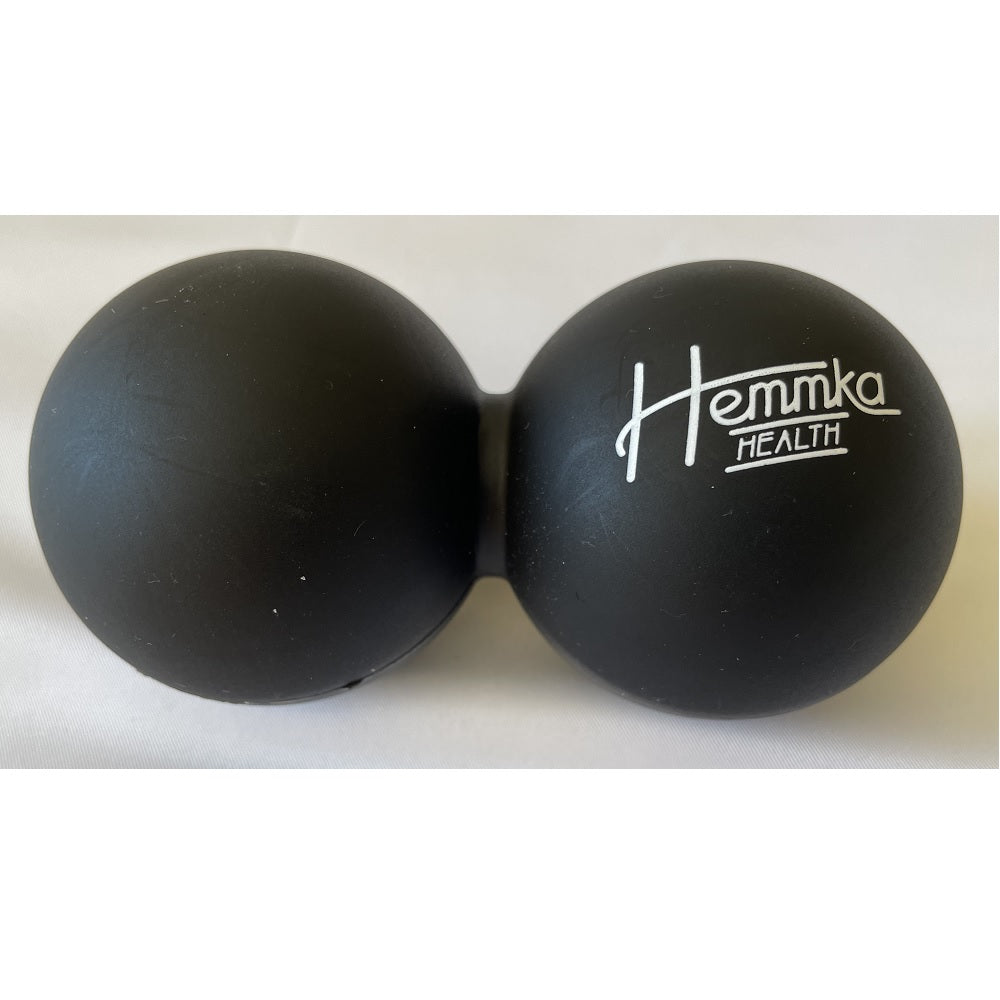 A dual massage ball design, perfect for rolling out tight muscles. The dip allows the ball to get close into your back muscles, without putting pressure on your spine. Also great to use for massaging your neck, shoulders, hips, glutes, hamstrings, and calves. Ideal for helping to reduce muscle pain and tension. Can be used before or after exercise, or as a general massage too.
How to use for back massage: Standing next to a wall, place the ball into position between your back and the wall ensuring the dip is in line with the spine (i.e. Not touching) and each side of the ball against your back muscles. Leaning against the wall with the ball between the wall and your back, roll up and down lowering yourself into a slight squatting position and then back to upright again. Ensure your feet are approximately hip width apart – do not let your knees over-extend over the toes when at the lowest point of the squat.
Ideal for back massage
Use before or after exercise
Releases tight and uncomfortable muscles
Self-massage
Product Details:
Colour:  Black
Dimensions:  12cm (L) x 6.5cm diameter (at widest point)
Material:  Silicone
Warning:  This product is not suitable for use by people with back injuries. Consult with your doctor before use, or before starting any new exercise programme.
The Peanut Massage Ball was designed to help you perform self-massage, myofascial release and trigger point treatment. It's unique design mirrors that of two massage balls joined together. This shape contours to the body's form and covers a wider area. The unique shape also allows the Peanut Massage Ball to nest easily on either side of your spine.
Use it on the floor or against a wall to relieve tension around the spine, back and neck. The firm pressure also helps wake up sensory receptors in the body. This, in turn, increases blood flow to local areas. It also makes you more aware of your body and how it moves. Performing simple exercises, like swiping your foot across the Peanut or rolling it under your arch, will also relax tense muscles. Further, it prepares the foot for weight bearing and increased movement.
How does it work?
The Peanut Massage Ball contours to the body and provides an invigorating massage. Simply roll it along the calf or any tense muscle group. The rolling, kneading motion releases soft-tissue adhesions, liberating the fascia and restoring natural movement.
Gym goers find it useful when used both before and after a workout. Restore suppleness to your spine and target specific segments of your vertebra with the Peanut Massage Ball. It also works well on the upper back, neck and scapula.