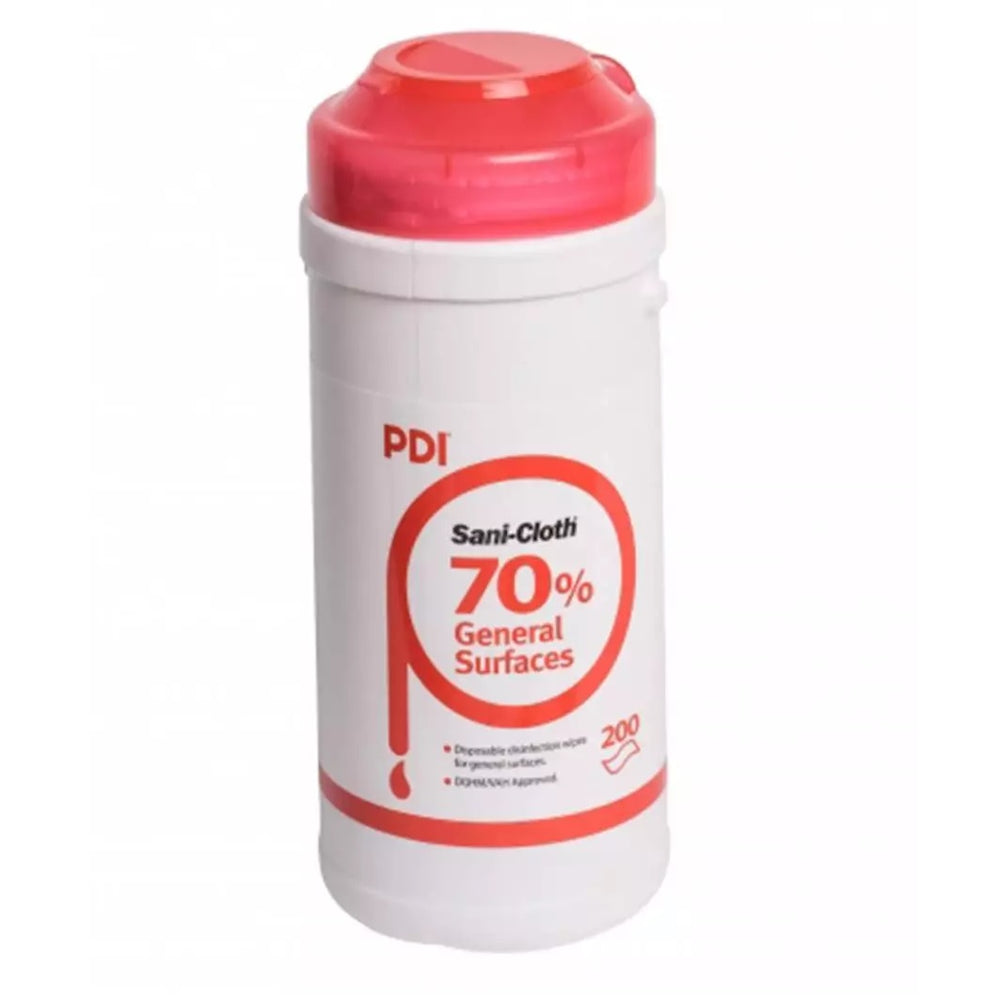 PDI Sani-Cloth® 70% antibacterial surface wipes. Designed for fast, effective surface disinfecting in healthcare settings. Each wipe is impregnated with an isopropyl alcohol solution to kill bacteria, viruses, bacteria, yeasts, and TB.
Disinfect surfaces in seconds. Streamline cleaning without cutting corners. 
These hard surface disinfecting wipes are ideal for cleaning in healthcare settings or any other setting where high levels of hygiene need to be maintained. Each wipe is pre-dosed with disinfectant, and the ergonomic tub makes it easy to grab and tear them to rapidly decontaminate surfaces and touch points. There's no need to spray product and wipe, meaning minimal disruption to your operations.
The fast-acting alcohol surface disinfectant wipes are designed to kill harmful microorganisms and keep potentially infectious germs under control. The infection control disposables are made with Propan-2-ol 70% v/v to eliminate bacteria, viruses, yeasts, and TB in just 60 seconds of contact time (5 minutes for some select bacteria, check the product information sheet for full details).
PDI Sani-Cloth® 70% antibacterial surface cleaning wipes should be used on non-porous, hard surfaces only.
Why choose PDI Sani-Cloth® 70% General Surface Wipes?
CE marked for quality and safety.
The tub is colour-coded red for all alcohol-based wipes to help with fast identification.
The wipes are made with smear-free formula and do not leave residue through repeated use.
Kills enveloped and un-enveloped viruses, bacteria, TB, and yeasts in as little as 60 seconds.
Using disposable surface disinfectant wipes reduces the risk of infection caused by reusable cloths and liquids.
Lint-free to ensure no fibres adhere to any surfaces, wipes are highly pliable to get into crevices and around corners.
Controlled dosage ensures disinfection in every wipe, with even coverage when wiping across surfaces. Moistened wipes can also cover more surface area than tissue.
A deep well lid to store the last dispensed wipe without letting it dry out, while the design makes for easy threading and dispensing. The Snap & Close lid keeps the wipes moist and clean. The 200ct canister is easy to grab and hold with one hand.
Pre-dosed disinfectant alcohol wipes provide powerful infection control with minimal disruption to business operations. Less time is spent between seeing patients or cleaning down exam rooms or touch points between appointments. Pre-dosing also eliminates solution mixing errors.
Where can the surface wipes be used?
PDI Sani-Cloth® 70% General Surface Wipes are designed for use on non-porous, hard surfaces, including:
Trolleys
Toilet seats
Bed frames
Door handles
Staircase railings
Worksurfaces and countertops
Examination beds, tables, and chairs
Sani-Cloth® 70% efficacy
SANI-CLOTH® 70%

TEST METHOD

ORGANISM

CONTACT TIME

Clean Conditions

Dirty Conditions

Bacteria






EN 16615

Pseudomonas aeruginosa

60

sec

EN 16615

Staphylococcus aureus

60sec

EN 16615

Enterococcus hirae

60sec

EN 13727

Pseudomonas aeruginosa

30sec

EN 13727

Staphylococcus aureus

30sec

 

EN 13727

Enterococcus hirae

30sec

 

Yeasts


 




 

EN 16615

Candida albicans

60

sec

EN 13624

Candida albicans

30

sec

EN 13624

Candida auris

30

sec

Enveloped Virus



EN 14476

Vaccinia Virus

15

sec 

EN 14476

Corona,HIV, Hep B & C, SARS, Flu

15

sec

TB


EN 14348

Mycobacterium terrae

60

sec
About PDI
PDI offers the number one disinfecting wipe in healthcare. The PDI range comprises the best antibacterial surface wipes for environments that need fast, effective disinfection such as hospitals, nursing homes, GP surgeries, infirmaries, and dental clinics.
Not only does PDI offer surface disinfectant wipes for dentistry, GP examinations, and nurses and care home staff. These are also effective disinfecting wipes, safe for food surfaces, and antibacterial wipes for toilet seats. Use them in virtually any setting where you need to maintain high levels of hygiene at all times.