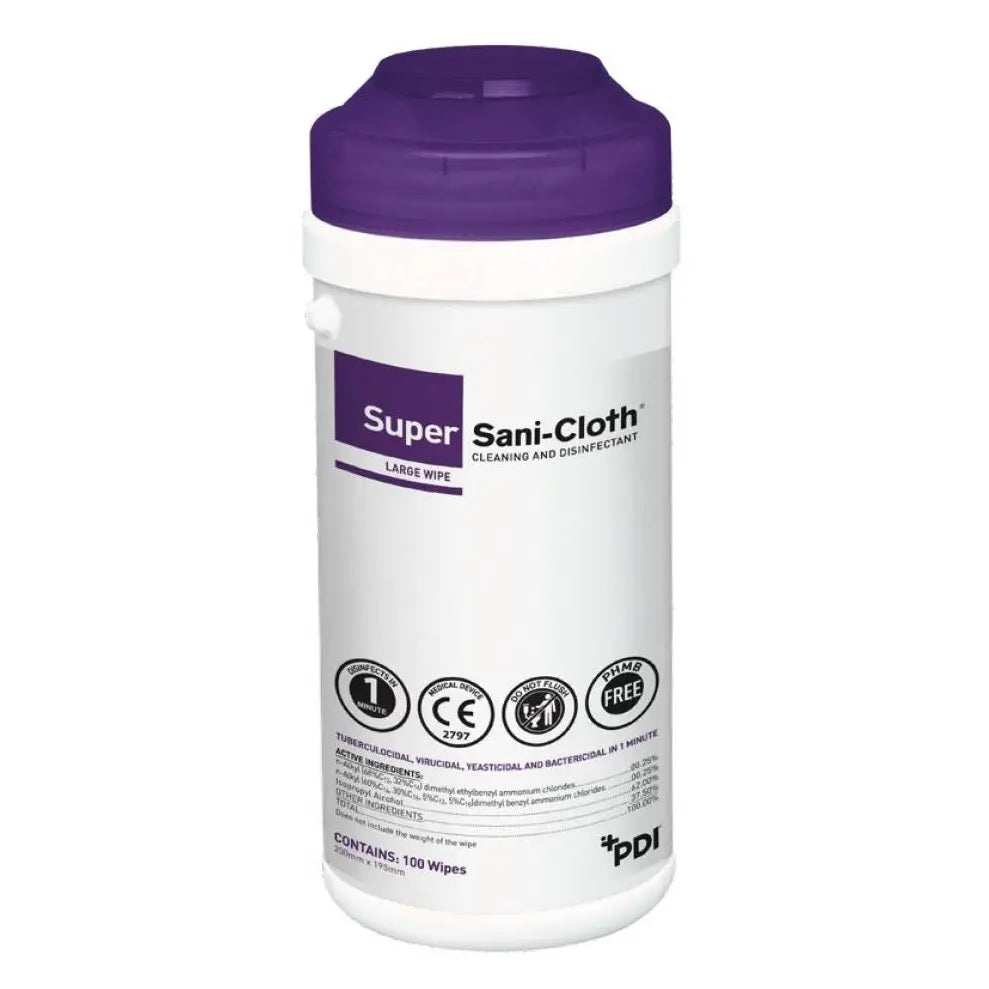 The #1 disinfecting wipe in healthcare. PDI Super Sani-Cloth® germicidal wipes are for effective disinfection of non-porous hard surfaces and non-invasive medical devices. Effective against viruses, bacteria, pathogens, fungi, and TB.
The first choice for fast disinfection in healthcare environments 
Super Sani-Cloth® germicidal disposable wipes by PDI are designed to keep fast-paced healthcare environments running smoothly. Don't be held back by tedious cleaning procedures or inadequate products for the job. Industry pioneers make PDI germicidal wipes to be everything professionals need to maintain infection control.
PDI germicidal wipes are pre-moistened with a bactericidal, tuberculocidal, virucidal, and fungicidal solution for one-step cleaning and disinfecting. In busy healthcare, medical, and nursing environments where hygiene can't be overlooked despite tight schedules, PDIs infection control disposables help everyone do their best to keep cross-contamination to an absolute minimum. 
Pre-dosed wipes are designed to remove all unnecessary steps like pre-mixing solutions, waiting for activation, soaking cloths, and drying surfaces. The formula on each wipe is measured to ensure no overuse or underuse, and there's no chance of errors in mixing. Keep business operations running smoothly with PDI Super Sani-Cloth® Wipes.
Why choose PDI Super Sani-Cloth® Wipes?
Contact time of just 60 seconds is required for complete disinfection.
PDI Sani-Cloth germicidal wipes are a class IIa medical device.
Wipes are free of allergenic and potentially carcinogenic PHMB.
Excellent, even surface coverage, with a consistent liquid release when wiping.
Single-use wipes reduce the risk of infection caused by reusable cloths & liquids.
Wipes are pre-dosed and ready to use. Controlled dosage ensures disinfection in every wipe.
Lint-free to ensure no fibres adhere to surfaces or equipment when used. Wipes are also highly pliable.
CE marked, meeting stringent quality and safety standards for public consumption.
The wipes are effective against Coronavirus and Norovirus, as verified by the EPA's

 

List N

 

of products for use against SARS-CoV-2 and viruses that cause Covid-19.
The product is made with smear-free formulation. Repeated use does not result in residual buildup, and the alcohol-quat solution is generally non-corrosive to metals.
The combination of quaternary ammonium and isopropyl alcohol (IPA) makes the wipes fungicidal and bactericidal. They are also virucidal against some enveloped and non-enveloped viruses and effective against TB. Thanks to this combination, the wipes have faster kill times than quat-based wipes and broader effectiveness than alcohol-based solutions.
PDI wipes' purple top tub design features a deep well lid to store each dispensed wipe. The wide opening makes initial threading or reloading easy. Snap & Close lid design eliminates possible drying out. Icon designs on the label make cautions and instructions easy to understand.
Premium Infection Control with PDI
PDI Sani-Cloth Active Wipes activated with quaternary ammonium and alcohol-free for patients with respiration difficulties. 
How to use Super Sani-Cloth® Wipes:
Use an S-shaped motion to clean the contaminated surface. More wipes may be needed for heavily soiled surfaces.
Disinfect the surface from top to bottom to avoid cross-contamination. Ensure to dispose of the wipe after use and use a new wipe for each new surface.
Allow the surface to air dry after it has remained wet for the required contact time (these can be found on the product packaging or in the table below)
Dispose of all used wipes after a single use following waste disposal guidelines.
DO NOT FLUSH. DO NOT MACERATE.
Watch this video to find out more about using Super Sani-Cloth® wipes.
Super Sani-Cloth® efficacy
SUPER SANI-CLOTH®

TEST METHOD

ORGANISM

CONTACT TIME

Clean Conditions

Dirty Conditions

Bacteria






EN 16615

Pseudomonas aeruginosa

60

sec

60

sec

EN 16615

Staphylococcus aureus

60sec

60

sec

EN 16615

Enterococcus hirae

60sec

60

sec

EN 13727

Pseudomonas aeruginosa

30sec

EN 13727

Staphylococcus aureus

30sec

 

EN 13727

Enterococcus hirae

30sec

 

Yeasts


 




 

EN 16615

Candida albicans

60

sec

60sec

EN 13624

Candida albicans

30

sec

EN 13624

Candida auris

30

sec

Enveloped Virus



EN 14476

Vaccinia Virus

30

sec 

60

sec

EN 14476

Corona,HIV, Hep B & C, SARS, Flu

30

sec

60

sec

TB


EN 14348

Mycobacterium terrae

60

sec
Where can PDI Super Sani-Cloth® germicidal disposable wipes be used?
We recommend using Super Sani-Cloth® germicidal disposable wipes on non-porous surfaces, touchpoints, equipment, and non-invasive medical tools and devices. Some examples are:
Bed frames
Glucometers
Instrument trays
Toilet seats and flushes
Trolleys, counters, and carts
Door handles and window latches
Chairs, tables, cabinets, wardrobes
Gurneys, stretchers, and exam tables
Diagnostic, monitoring, and support equipment