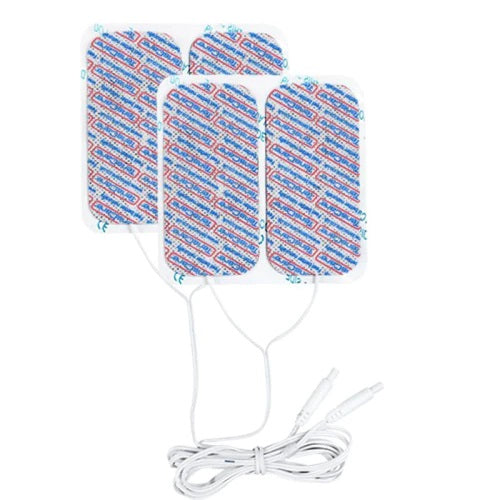 50 x 100mm rectangular maternity electrodes with integrated leads for use with TensCare Perfect mamaTENS and Perfect Mama+ units only. Please check your existing lead connections or "spares" section of your manual to be sure you are ordering the correct electrodes.

Extra-large pads for maximum pain relief during labour and integrated leads for safety and hygiene. Intended for one use only and should be disposed after labour.
To replace electrodes for further use after labour for pain relief, please purchase L-CPT leads and 50 x 100mm electrodes.

Also available to use with L-CPT leads; breast electrodes for inducing and maintaining lactation using programme A on the Perfect MamaTENS and Mama+ and for lifting and toning using our Beauty and Fitness devices.
Key Features
• Integrated leads for additional hygiene
• Large electrode surface for optimal pain relief
• Round connection
• Compatible with most TENS and EMS devices with the same lead connection
• Wipe clean material
• Extra long leads so device can be worn under clothes, while in bed or on the move
• Hypoallergenic, gentle on skin and latex free
Included
1 x set of Perfect MamaTENS electrodes with integrated leads (4 electrodes)
1 x Resealable storage bag
1 x Instructions for use
1 x Placement Guide