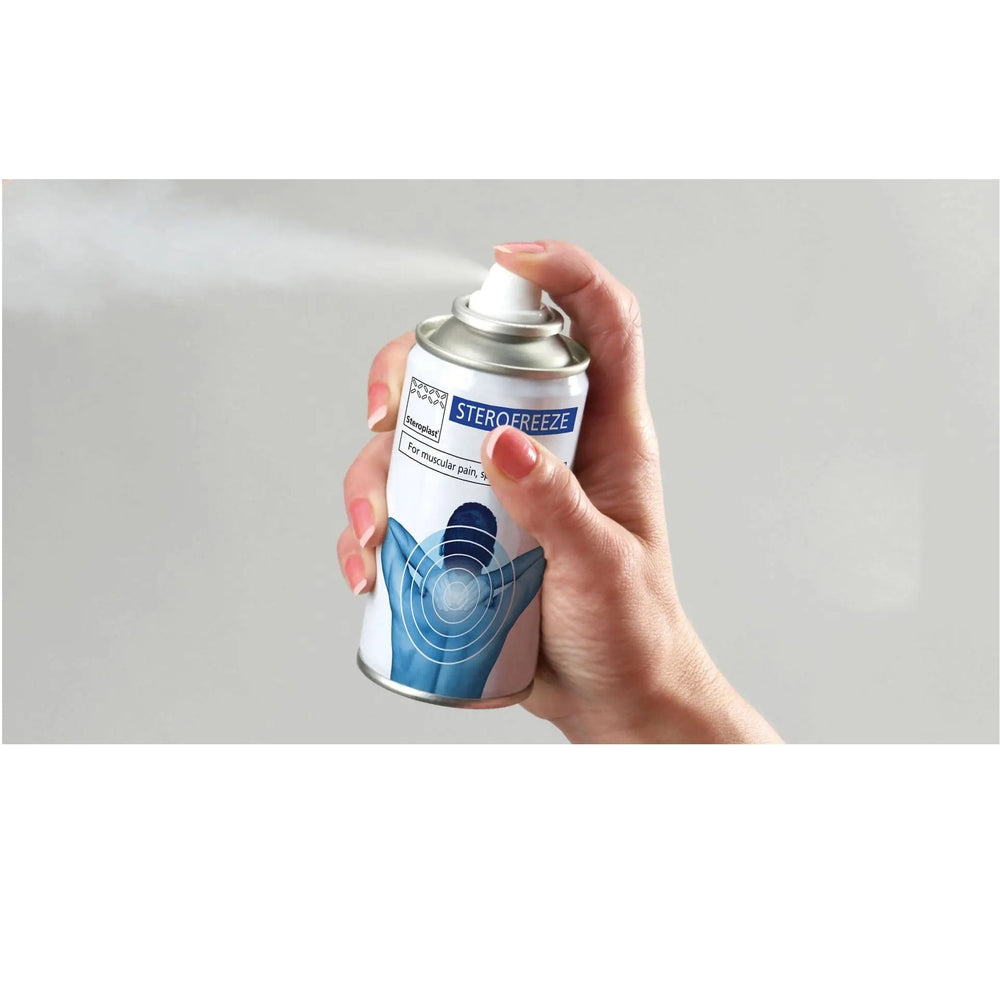 The sports freeze pain relief spray quickly cools the skin and relieves muscle pain and stiffness caused by cramp, sprains and bruises. It is ideal for use during or immediately after exercise.
Fast relief cold freeze spray - freezes pain instantly!
Dual-action - ices the area and relieves muscle pain and stiffness
Freeze spray for instant pain relief
Works as rapid as ice, delivering an instant burst of cooling pain relief
Cools the skin
Alleviate injuries and swelling
Relieves muscle pain and stiffness
For use on sprains and bruises
Can be used during or immediately after exercise
Ideal for stiffness caused by cramps, sprains and bruises
150ml cold freeze spray can
Understanding cooling therapy:
The practice of using cold therapy to reduce pain and aid recovery is also known as cryotherapy. Physiotherapists and other healthcare professionals recommend cooling therapy as part of the RICE protocol in the event of trauma or injury to a muscle. It stands for Rest, Ice, Compression, Elevation:

Rest - the muscle should be rested to prevent further strain or injury
Ice - the muscle should be cooled as quickly as possible with cool therapy applied for at least 20 minutes at a time
Compression - an elastic compression bandage should be applied to the injury to prevent additional swelling and blood loss
Elevation - the affected muscle should be raised above the level of your heart to minimise swelling
What kinds of pain can this product help to ease
Sterofreeze spray can be used for many different kinds of pain that can occur anywhere on the body. Some of the most popular reasons to use this product include:

Muscle pain
Joint pain
Sprains
Strains
Minor sports injuries
During or after exercise
What causes pain in the muscles and joints?
Pain in the muscles and joints can often be attributed to tension, stress, or overuse. Overexercising is a common cause of muscle pain.

How to use
Shake can before use. Always try on a small area first
Hold 15cm from the affected area and spray in 2-3 short bursts
Wash hands after use
Repeat up to 3 times per day
Instant relief for deep joint pains
Sterofreeze Spray has been developed to target areas of pain following sports and general injuries. This 150ml spray bottle can be stored in a sports bag or sports first aid kit for use during or after sports activities.

Use Sterofreeze Pain Freeze Spray after exercise
Our freeze pain relief spray can be used immediately after exercise to quickly relieve pain on the back, neck shoulders and legs. The sport freeze spray formula is dispersed from the spray nozzle, delivering a targeted and instant burst of cooling relief.

Best freeze spray for pain
The fast-acting pain relief freeze spray can be used to provide instant relief for back pain, muscle aches and sore joints.