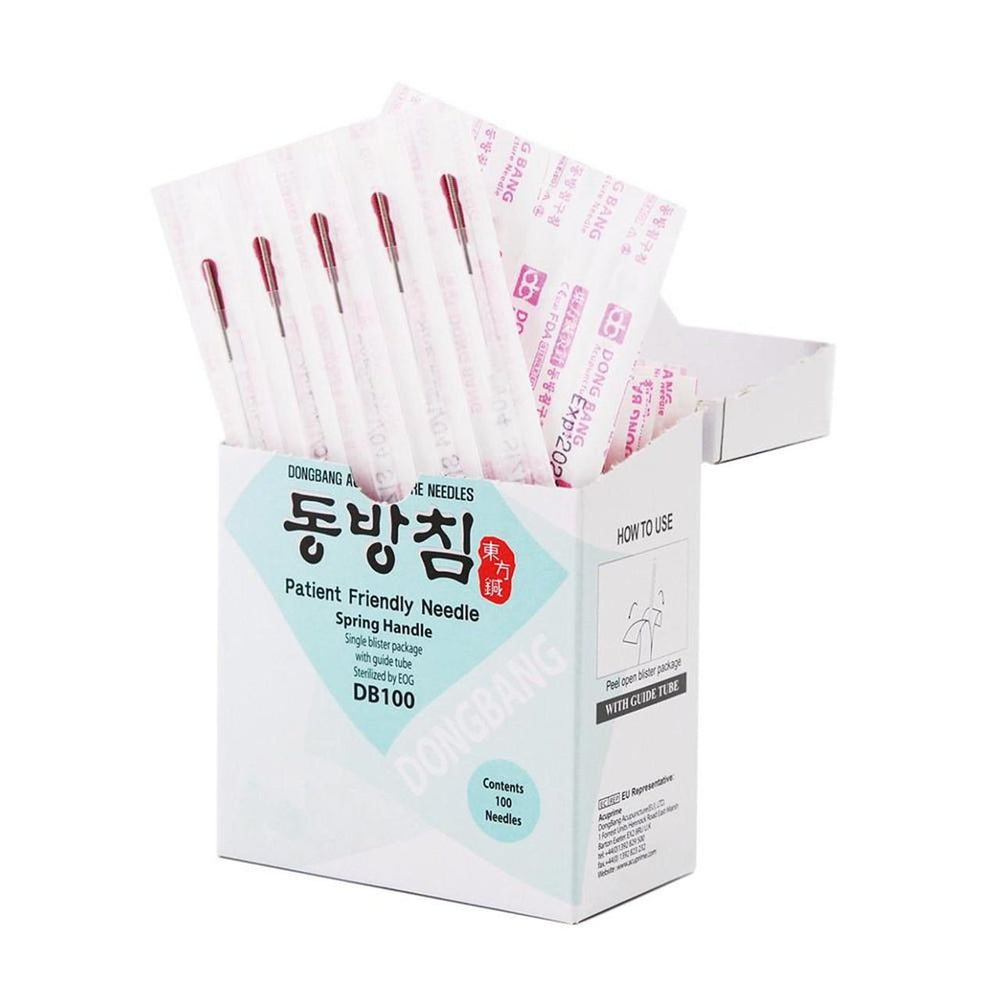 – Strong and Reliable: Made from medical-grade stainless steel
– Easy to Place: With high tensile strength, these needles are easy to place and insert without risk of buckling
– Individually Packaged: Control the number of needles you use with only one per blister
– Ultimate Control: Each needle comes with an easy-glide guide tube
– Choice of Sizes: Pick from five lengths and seven widths
– Pack Size: Each box contains 100 needles
Can be used for both Dry Needling and Acupuncture.
The DB100 Dongbang sterile acupuncture needles are made from surgical stainless steel and are sterilised with EO gas, offering up to five years serialisation from date of manufacture.
Each box contains 100 needles packed into 100 easy to open blisters. In each blister there is 1 needle securely held in one guide tube. To release the needle from the guide tube, simply remove the plastic tab.
The needles have a Korean style spring handle (Without a loop) and are extremely patient friendly with easy-glide insertion action, thanks to the advanced polishing technique, silicone tip coating and strict quality controls in the Korean factory.
The DongBang DB100 is one of the most popular stainless steel acupuncture needles thanks to its medical-grade material and expert reliability. Easy to position and incredibly strong, this is the perfect needle for many applications.
Korean-style handle
The DB100 is a Korean-made and Korean-style handled needle. Korean-style needles have spring handles without loops. This means that fine stainless steel wire is tightly wound to create the handle. This type and material can be used for electro-acupuncture and moxibustion therapies.
Stay in control
Each needle is individually packaged with a guide tube. This allows you to control the number of needles you use precisely rather than exposing extra needles to contamination.
With a silicone-coated tip, guiding the needle into the perfect spot is simple.