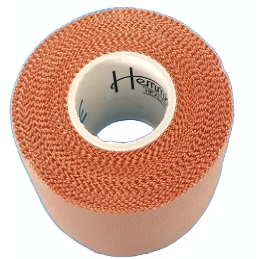 The Premium Rigid Sports Zinc Oxide Tape is a good quality rigid tape and combines excellent adhesion and tensile strength to provide ultimate support to joints under stress. Serrated edge for easy hand tearing.
Size: 3.8cm x 9.14m
The Premium Sports Zinc Oxide Tape is a reliable and effective way to support injuries and promote healing. Made from a strong material, it can be easily applied to the skin to provide targeted support to injured muscles and joints. Its zinc oxide adhesive ensures it stays in place, even during intense physical activity. The tape is also sweat-resistant and easy to remove, making it a practical choice for athletes. Whether you're dealing with a chronic injury or just want to prevent future ones, our Premium Sports Zinc Oxide Tape is an excellent choice. It's also latex-free, making it suitable for those with allergies.
Fabric base
Latex Free - So less chance of any allergic reactions

Beige colour

Inelastic
Adhesive
Hand Tearable
Comfortable and easy to use
CE marking
Individually wrapped to maintain dryness and effective taping even after being left

 

in the bottom of a damp

 

pitch

 

bag for months
Price is €4.49 per roll 
Bulk Box of 10 Rolls for only: €4.25 per roll
Bulk Box of 20 Rolls for only: €4 per roll
Bulk Box of 60 Rolls for only: €3 per roll
Hemmka Health is an Irish brand of quality physiotherapy products.
Ankle Tape
Sports Zinc Oxide Tape is the best choice for ankle strapping. It is a non-stretch tape that provides unrivalled support. Our Beige Sports version has the highest tensile strength and it can be ripped by hand for fast application.