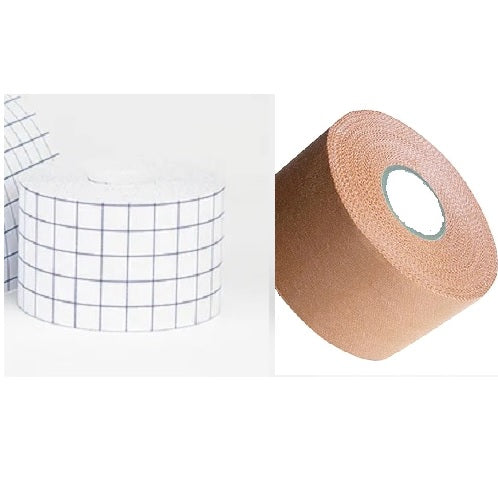 Combination Twin Taping Pack with Premium Beige Sports Zinc Oxide Strapping Tape.
A single box that consists of 1 Roll of 3.8cm x 10m premium sports strapping tape with serrated edge, plus 1 Roll of 5cm x 10cm Fixtape Dressing Retention Tape.
So, if you have been using other leading brands and paying a much higher price - then we advise that you try our new combination twin taping pack that includes the premium sports tape - because you will most probably not be able to tell the difference.
Used for the management of patello femoral pain, this Combination Pack is also ideal for use in many taping techniques. Supplied and used by Physiotherapists, Medical Practices, Hospitals, Sports Medicine and Veterinary applications.
Contents:
1 x 3.8cm x 10m Premium Sports Non - Stretch Tensile Strength Tape
1 Roll of 5cm x 10m Fix Tape Dressing Retention Tape